Machine tool touch probe / 3D / infrared - IRP25.41 series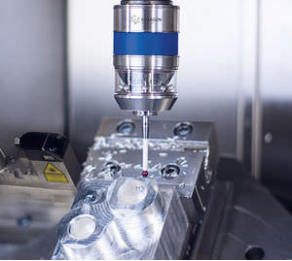 The touch probe IRP25.41 is a dependable benchmark incorporating HDR technology. It has been developed to meet the needs for flexibility in measuring tasks which change frequently. Modular extensions which can be combined are available for measuring deep in workpieces and near walls. All materials and measuring requirements can be adapted to by the trigger force which is freely adjustable.

The m&h infrared probes are touch trigger probes. When a workpiece surface is approached, a trigger signal is transmitted to the receiver by infrared light, because of the deflection of the stylus. For process-reliable measuring on machine tools it is vital that there is interference-free transmission between the receiver and the probe. Interference caused by ambient light from inside and outside the machining area is avoided by utilizing HDR (High Data Rate) technology.
Any questions?
Please ask our sales team!
Other products: