Polycrystalline photovoltaic solar cell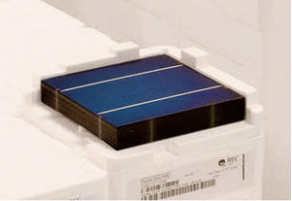 REC is a leading manufacturer of high quality multicrystalline solar cells. The solar cells are designed and tested in order to produce the maximum power output. REC is continually improving the PV conversion efficiency of multicrystalline solar cells by highly efficient automated processes and high quality standards.
REC Cell production takes place at REC's integrated solar production facility in Singapore, in state-of-the-art production lines. The plant has eight production lines developing wafers from REC Wafer to solar cells. From the startup in 2010, the cell efficiency development has increased at a rapid rate and at the end of 2011 REC achieved average cell efficiency of 16.8 percent. Through implementation of new technology REC is targeting to increase cell efficiency to 18 percent by the end of 2012. All cells produced in Singapore are used in our internal module production.
Any questions?
Please ask our sales team!
Other products: