Synchronous electric torque motor - max. 21000 Nm | TK - TKW series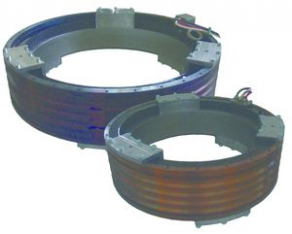 Parker TK series torque motors are frameless torque motors which provide the rotor and stator as separate for integration into the machine's mechanical structure. TK series torque motors, with very simple mechanical designs, provide significant cost savings and superior accuracy.

When compared to other solutions in the market, the TK series motors are highly robust, making them perfect for challenging environments.

TK Series incorporates Parker's extensive experience in designing and manufacturing of torque motors. The motors are also available as sub-assemblies with cooling system, frame, feedback sensor, and bearings.

The motors provide lower sizes and weights as well as savings in maintenance costs. They have a longer service life, improved rigidity and precision, and a low speed smooth rotation.

TK series delivers highly accurate positioning and superior dynamic performances. It also provides significant savings in energy consumption due to the mechanical losses being suppression.
Any questions?
Please ask our sales team!
Other products: