Multi-axis motion control card / high-performance - 150 W, 48 V, 3 A, CAN, CANopen | ISM4803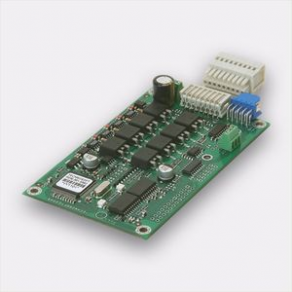 The superior performance ISM4803 Intelligent Servo Module features a compact unit imbibed with motion controller, drive and PLC functionality. The module proves a flexible, economical solution especially for distributed and coordinated control of brushless, DC or step motors of powers up to 150 W, with up to 48 V voltages. ISM4803 is programmable with the high-level Technosoft Motion Language (TML) and embeds, on a single board, advanced motion control and basic PLC-specific functionality.

The device features fully digital servo amplifier with embedded intelligence & PLC functionality and proves suitable for brushless DC, brushless AC (vector control), DC brush, and 2-phase or 3-phase step motors. The module with compact open frame design (64 x 104 x 16 mm) in card format can be controlled in various control modes including torque, speed, position; electronic gearing, contouring (PVT, PT), profiling (trapezoidal, S-curve); step motor emulation (step & direction input).
Any questions?
Please ask our sales team!
Other products: