Trapezoidal transmission belt / banded - 2/AV13;2/AV15;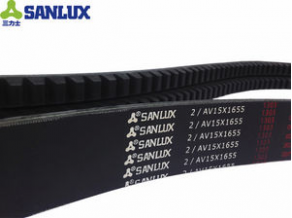 The 2/AV13,2/AV15 is a banded raw edge cogged V-belts manufactured by SANLUX. It is a extremely adaptable and is ideal for conditions needing great versatility and pulleys with minimal diameter and ensuring same performance over the whole belt length for the entire belt life. It has an extreme toughness and smooth running with fiber-reinforced elastic compounds and also flexible and is abrasion, heat, and oil resistant.

It is made of versatile carcass obliging to absorb shock and avoid elastic cracks. Moreover, the unit is also made of great robust cords with low stretch ability providing extreme adaptability and a length stability.
Any questions?
Please ask our sales team!
Other products: