CNC turning center / vertical / 4-axis - max. Ø 4000 mm | DV-4000MT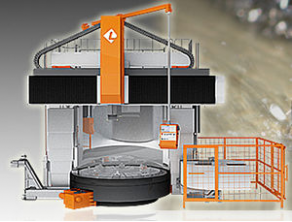 The DV-4000MT is a 4-axis vertical CNC turning center that is integrated with a penta-grip system. This system is designed to enhance the machine's durability, and increase the versatility if the tool selection.

Designed with a Quad-Anchor positioning mechanism, the DV-4000MT is constructed with a solid structure, suitable for heavy-duty cutting applications. It is also equipped with a weight balancing system located on its cross beam counter.
Any questions?
Please ask our sales team!
Other products: