Automatic punching and bending machine - 850 kN | BENDICROP 85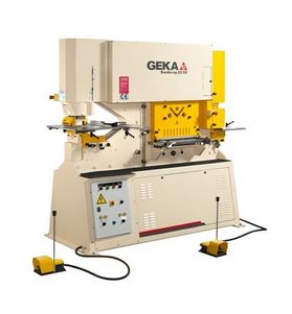 The BENDICROP 85 is an automatic punching and bending machine that is typically used in metal construction applications. It is characterized by its maximum capacity of 200 x 15-mm, and is equipped with a double cylinder machine that has five working stations.

This optimized station is constructed with a 500-mm extended throat. Other stationg include the station of shearing flat bars, the bending station, triangular notching station and the round and square bars shearing station. The BENDICROP 85 is installed with a system that reduces deformation while shearing flat bars.
Any questions?
Please ask our sales team!
Other products: