Brake press / hydraulic / CNC synchronized - 1 350 - 2 200 kN | PX series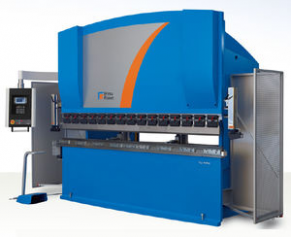 PX series press brakes come in three basic versions, all based on the standardized modular structure. This allows a high standardization and approved design, so the PX series are quite affordable despite their high reliability.
Despite the fact that this is the entry-level press brake in the Prima Power P-series, the quality compares well with its more expensive and advanced counterparts with respect to precision and reliability. The PX series press brakes are products of long years of experience and a dedicated scientific approach in terms of functionality and precision in the arena of machine tool building.
The features that all P-series press brakes share are: the modular approach to its construction, years of experience invested in their design and the 100% European design and production as well as the latest control technology and machine construction.
Any questions?
Please ask our sales team!
Other products: