Helical drill sharpener - S-3-50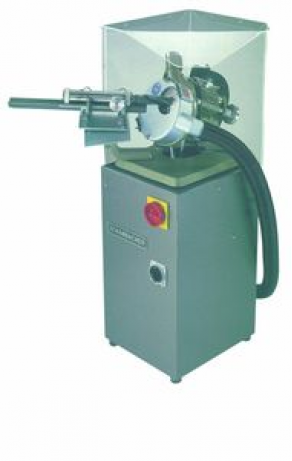 Spiral Drill Grinding Machine S-3-50

Field of Application:
- Grinding and center point grinding of HSS-spiral drills
- By the patented drillgrinding a pointing out is not needed

Grinding HSS-drills with the spiral drill grinding machine S-3-50 occurs effortlessly. Simpelst operating with this machine requires no learning time and the durable grinding wheel makes the machine very economical.

Options:
- Collet chuck device
- Device for drills up to dia. 60 mm

Features:
- Easy handling, also for unskilled employee suitable
- Patented, three dimensional drill out with center pointed cross cut

By the robust construction the spiral drill grinding machine S-3-50 is nearly maintenance-free.The patented kind of grinding is progressive and three-dimensional. Thereby it reduces the cross-cutting so that thinning is not required.

Scope of Delivery:
The Drillgrinder is delivered with cbn-wheel and exhaust.
Any questions?
Please ask our sales team!
Other products: