2-axis angled deburring machine / automatic / for PVC window and door - Trimmer 2A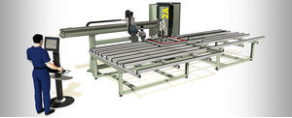 This Emmegi's Trimmer 2A is made for the PVC frames with two interpolated axes, to clean its corner.

This corner cleaning machine has a knife which has 275 mm diameter, that lets the cleaning of the outer corner be done on different profiles. It also consist of top and bottom units along with its knife that is made for the welding beads together with the knives that are for the inner-corner cleaning.

However, the cleaning of the inside and outside corners can be done in association of the drilling units whether its top or bottom. Those units can be operated from each other through a CNC PC.
Any questions?
Please ask our sales team!
Other products: