Plasma cutting machine / CNC - 2 - 15 mm, 220 - 380 V, 0~8000mm/min | BeyondX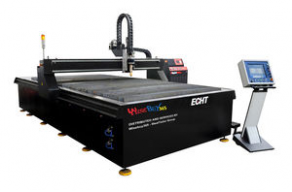 TrueShape offers a better service than True Hole technology. TrueShape technology is used for cutting holes which have a diameter to thickness ratio of 1:1. It uses the most advanced laser-like plasma cutting technology, which is better suited for industrial use than laser, according to industrial standards. It and can perfectly integrate with Lincoln equipment. It saves more than half the cost of cutting for 2-15 mm steel plates.

TrueShapeTM is the first technology to show perfect integration of nesting software, controller, plasma and a mechanical design. This significantly upgrades the cutting craft and it improves the cutting quality. TrueShapeTM effectively offers the precise outline of cutting samples as well as smooth and vertical profiles.

TrueShapeTM can be matched with KALIBURN high-definition plasma power. In this respect, it should be noted that only the kjellberg HF series and KALIBURN offer true high-definition plasma power. The machine structure has a design patent covering aspects like the high accuracy operation, overall thermal aging treatment and material hardness. Its CNC controller enables much less speed and gas flow during hole cutting.
Any questions?
Please ask our sales team!
Other products: