CO2 laser cutting machine / for machines / metal / acrylic - 1500 x 3000 mm | 130SD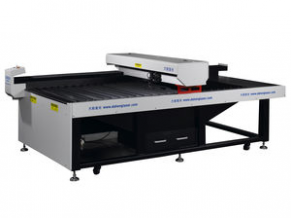 130SD with 130W Chinese tube is an economical metal laser cutting machine with high quality and high cost-performance meanwhile also good at cutting MDF, acrylic and other nonmetal materials such as1.5mm sheet metal, 10mm MDF, 30mm acrylic .
The machine is matched with Mitsubishi Servo System and high precision ball-screw system to ensure high precision, running stable and long-operation.
In addition, the machine is equipped with WORLDCUT patented technology, fixed beam optical system to keep the constant cutting quality over the whole working area and untouched following system specified in cutting metal.
The machine SD can come to the different powers such as 150W America laser tube, Rofin 150W laser from Germany.
Any questions?
Please ask our sales team!
Other products: