Circular saw / semi-automatic / for aluminum - COBRA 352 SX EVO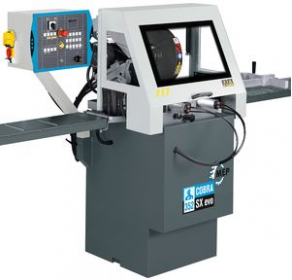 COBRA 352 SX evo, semi-automatic electropneumatic sawing machine to cut aluminium and light alloys using blade with electrowelded hardmetal plates (HM).
- The machine cuts from 45° right to 45° left and the head tilts from 0° to 45° left so as to make inclined cuts.
- Sawing machine with controlled single axis microprocessor with the latest generation of controllers...
Any questions?
Please ask our sales team!
Other products: