Standard lift gate / truck - 450 - 750 kg, 900 - 1 100 mm | Z 45/75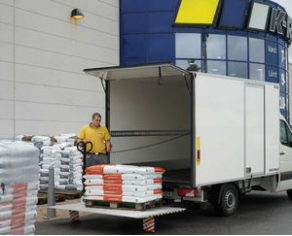 Z-45/75 models fit light duty trucks with GVW up to 5T. The underrun protection (bumper bar) is designed and approved for vehicles up to this size.

The lower lift capacity 450kg Z-45 model is available for relatively light duty use on vehicles where the total permitted loading capacity is lower than 750kg.

The aluminium platform also has brackets of the same material for connection to the lift. These provide class-leading low weight solution. Standard lengths available are 1200 mm, 1450 mm and 1600 mm. Other lengths are available on request. The platform width can vary from around 1500mm upto 2540mm depending on the lift model chosen. Due to the wide variety of different chassis in this vehicle class on the market the product family has 3 different arm widths and 2 lengths. Hence 6 basic geometrical permutations are possible. The loading centre is at 600mm.

The hydraulic unit can be supplied attached and pre-connected to the support frame or as a separate unit for positioning during installation. The choice depends on the particular geometry of the installation in question and advice can be sought in our technical documentation.
Any questions?
Please ask our sales team!
Other products: