Double-girder overhead traveling crane - max. 100 000 kg, max. 36 m | ZLV, ZLK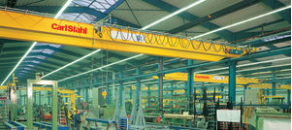 The Double Girder Overhead Traveling Crane is specifically designed for industrial applications. It has a maximum capacity to load items up to 100 000 kg having a maximum span of 36 m. This crane has various trolley versions added to its flexibility to make optimal use of available space.

Moreover, this device has trolley girders which are computer-designed to ensure an intense capacity at the minimal possible dead weigh. It is also built with a minimal cost consumption and provides a high performance level of productivity.
Any questions?
Please ask our sales team!
Other products: