Belt feeder / automatic - GLD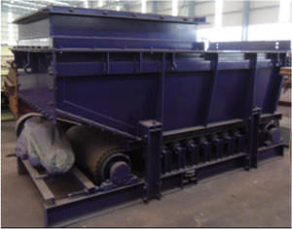 The belt feeder is used in the industries such as coal, metallurgy, mining, etc, for delivering the bulk materials. It consists of a manual/transducer regulator and combined stepless speed regulating motors. The amount of feeding can be controlled to a very large capacity, manually/automatically.

The buffer rollers are present in the bottom of the storehouse, wherein the feedstock drop. The impact resistance is enhanced by them. The adhesive tape(without any joints) and the belt have enlarged lifespan. The belt feeder is extremely fast and impeccable.
Any questions?
Please ask our sales team!
Other products: