Big bag connection system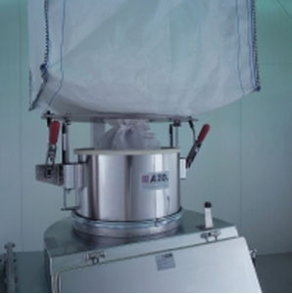 The big bag discharge system is a dust-tight docking system ideal for use dumping line and unlined large bags, and is suitable for use with all free-flowing materials. The version A device works by connecting to the big bags that are suspended safely on mobile lifting supports, which keeps them upright as the contained materials are transported from the bag through the connecting system and deposited onto the designated supporting table.

The bag is kept in place with manual clamps or a pneumatically-lowered clamping disc connected at the inlet piece. Once the string is untied, the connecting system automatically lowers to ensure that the outlet is securely connected, and following this, the dumping process begins.

The version F device works in the same manner except the big bag is lifted through the use of the lifting device when the outlet needs to be tautened. If using the device for the dumping of flow-resistant material, it is advised to introduce vibration support or a bag massager into the dumping process.
Any questions?
Please ask our sales team!
Other products: