Ultrasound welding generator - 350 - 600 W | ELM 40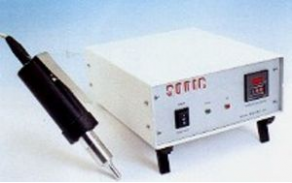 Elm 40 is a compact generator of extreme manageability and versatility, made of robust aluminum construction. It can be used in all
applications, including plastics, fabrics, packaging, and the automotive industry, both with manual systems of our production and fully automated systems.

THE SAME GENERATOR AND CABLE CAN BE USED WITH MANY OTHER DEVICES:

- Manual cutting unit: ideal for longitudinal ultrasonic cutting, specifically designed and studied for easy installation of cutting benches, with two sliding wheels and a hardened steel plate.

- Plastic sleeve: this light and versatile plastic sleeve has been specifically designed to allow for flexible ultrasonic cutting movement, ultrasonic welding and/or slitting of every kind of thermoplastic textile. The machine can be used for cutting label samples, pelmet cuts, filters, welding and/or slitting of fabrics and non-woven materials.

- Aluminium sleeve: the aluminium sleeve has been designed for installation on any automated system, from robotic plants to ultrasonic cutting benches, non-woven bobbin connection systems, ultrasonic riveting systems, ultrasonic spot welding systems and ultrasonic welding systems.

- Overhead cutting frame: compact and easy to install, this frame has been specifically designed to be installed over the loom. The track wheel can be changed allowing for various angle adjustments, according to the thickness and composition of the materials used. Ideal for sealing and/or slitting synthetics, non-woven, padded textiles and selvedged materials.

- Gun handle grip: ideal for welding stitches or riveting large, complex pieces, even when working on small production series.
Any questions?
Please ask our sales team!
Other products: