Resistance welding generator - 2 - 4000 A, max. 20 kW | M2 series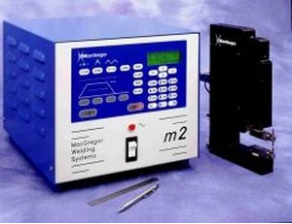 The m2 series by MacGregor Welding Systems succeeds in combining the control and precision of closed loop DC welding with the economy, ease of use and compact packaging of traditional open loop welding technologies such as Capacitor Discharge and AC. With better performance than alternative low cost inverter systems, the m2 offers a solution for any application where precision control is required.

The m2 series features the proven m3 power control technology, embedded weld monitoring, standard PLC and RS232 interface with a simple LCD interface and function based keypad. Both single and 3-phase mains supplies can be used depending on the unit model. The m2 offers precise control and reliable weld monitoring at a significantly lower price than competitive equipment.
Any questions?
Please ask our sales team!
Other products: