Battery-powered 15V welding machine / portable / for external overlay - ø 50 - 550 mm | RW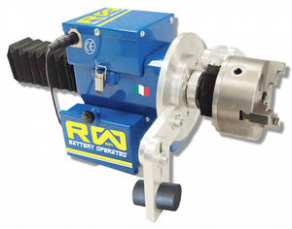 The portable machine tool is powered by a 15V rechargeable battery, designed to perform in a very accurate and precise way the overlay welding application on cylindrical surfaces.
Designed to perform "on-site" operations; it makes up for the inability and/or the difficulties of an economic/logistics reasons, of moving these bodies and their connections or structural overall dimensions, from their location.
The RW has been structured and designed to perform external overlay welding on external
cylindrical components.
It is equipped with rapid movements to optimize machining time.
The entire moving system is electronically controlled by the interaction with a simple and efficient control panel that is on the machine.
The assembly is horizontal, vertical or oblique ,you can machine in every position even on high ranges of cylindrical surfaces.
The whole system of fastening/support, takes place by using an internal and external chuck jaws in relation to the type of the cylindrical surface that needs to be welded.
Any questions?
Please ask our sales team!
Other products: