Plasma cutting torch - Powermax 65m Hypertherm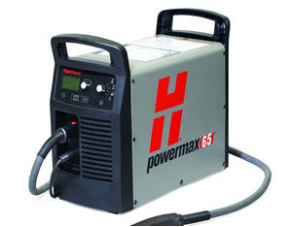 The Powermax 65m Hypertherm is a Germany-made plasma system developed by BZT. It comes with M65m or 7.6 m FC cutting torch, CPC interface, and manual operation. The unit is supplied with 3 x 400 V power supply, 20 to 65 A setting range, compressed air or nitrogen gas supply, 212 l/min flow rating gouging at 4.8, and 189 l/min cut flow at 5.6.

In addition, the framework is equipped with 16 mm hole sting, 19 mm at 500 mm/min recommended steel thickness, 25 mm to 250 mm/min maximum steel thickness, and 32 mm at 125 m/min severance capacity.
Any questions?
Please ask our sales team!
Other products: