PECVD deposition machine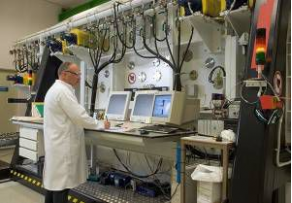 Application
The PECVD pilot coater is intended for producing p-i-n stacks of amorphous hydrogenated silicon on metal foils. The cotar is used as an experimentation tool for optimization of plasma enhanced chemical vapour deposition of functional coatings and production of trial materials.

Engineering and Technology
The PECVD pilot coater is a roll-to-roll type plant engineered for one-sided vacuum coating of up to 350 mm wide metal foils.
The coating is deposited by an RF discharge. The deposition zone consists of an RF electrode inside a gas-tight volume. Contamination-free conditions are provided in the deposition zones.
Substrate is preheated before coating deposition, heated during the deposition process and cooled down after coating. Temperature gradients on foil do not exceed 4 oC/cm. Temperature on electrical devices, the curved plate and substrate is monitored with thermocouples and IR sensors.
Any questions?
Please ask our sales team!
Other products: