Discontinuous screen changer / hydraulic / slide plate - EH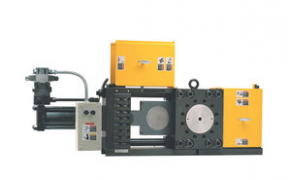 From the worldwide leader in filtration equipment, Xaloy offers the EH hydraulic screen changers. Contamination of the melt steam by metal, wood, paper or internally generated black specks yields products that are unacceptable in appearance and/or performance. Xaloy hydraulic screen changers represent the most technically advanced design of slide plate type screen changers. The EH line is suitable for processing a wide variety of thermoplastics on applications ranging from sophisticated multiple layer thin film extrusion to the heavy demands of recycling.

Integrate the System
Put an Xaloy melt pump after the screen changer and further increase the productivity of the extrusion line all from one company.

Polymer Rheology Testing
Xaloy has the ability to provide polymer viscosity and melt index analysis.

Superior Service
Xaloy rebuilds, repairs, services and supplies parts for screen changers, melt pumps, screws, barrels, heat transfer rolls, pelletizers and cleaning ovens.
Any questions?
Please ask our sales team!
Other products: