Edge trim plastic granulator - SML series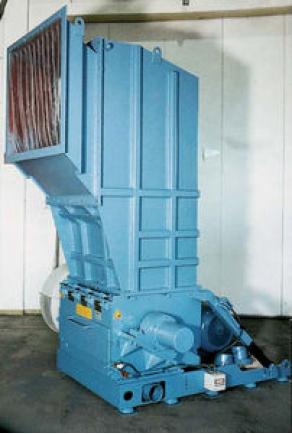 The SML series includes machines for normal, everyday applications in the plastics-processing industry, besides the injection or blow moulding machine as the central granulator for larger parts, as edge trim cutters and for many more application possibilities.
Granulators of the SML series are available with rotors from 220 to 800 mm in diameter, a working width of from 300 to 1450 mm and drive performances from 5.5 kW to 160 kW. The C-models of the series are available with space-saving, fully integrated noise protection.



HERBOLD GRANULATORS with forced feed


Here we present a new solution for the material feed to shredding machines. The material no longer falls into the grinding chamber under the force of gravity, but is fed horizontally and evenly to the rotor by a screw conveyor.


Granulators of the SML series are also available as washing granulators. In this application, contaminated plastics are granulated with the addition of large amounts of water. The resulting friction produces a good washing effect. Washing and shredding are combined into one operation.
Any questions?
Please ask our sales team!
Other products: