Twin-screw extruder - ZSK NT series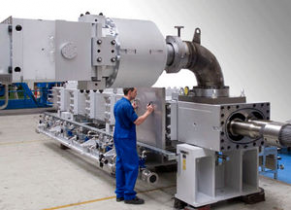 ZSK NT technology delivers top-class homogeneity and guarantees a supply of high quality products for future applications with an even better molecular distribution weight. The ZSK MEGAcompounder uses two-stage processing for the separation of homogenization and plasticizing of bimodal polyolefins.

Homogenization has high demands on bimodal polyethylene due to the wider molecular weight distribution. It is essential that the long chain molecules responsible for the end product strength be mixed into the matrix of a short chained molecule. The ZSK NT, which was developed by Coperion, consists of two ZSK MEGAcompounders suitable for the mixing process. In the first stage, a high screw speed process melts the polymer. In the second, a low speed process mixes the different viscosities homogeneously.
Any questions?
Please ask our sales team!
Other products: