Twin-screw extruder - ZE Basic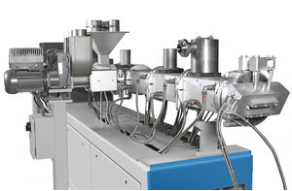 The KraussMaffei Berstorff ZE basic is superior in performance, quality and dependability. The ZE Basic series is ideal for most of the compounders, making it a fitting choice that combines creativity and flexibility.

The ZE basic 4 extruders come with a standard design with screw widths of 42 - 77 mm offer an incremental efficiency and economically viable product. The configuration range varies from air or water cooled motors, with 3 speed level choices at 300, 600 and 900 rpm. To obtain maximum long life safety in ZE basic extruders nitriding, hardened CrMo covering with an L / D relationship of 4, 8, 10 or 12 is utilized.

The C - Clamp flange system reduces the installation or detachment of the unit. The ZE basic different screw components with a d / d = 1.55 could be operationally expanded and are uniquely customized to the standard duties of compounding.
Any questions?
Please ask our sales team!
Other products: