Twin-screw extruder - MD-90, MD-115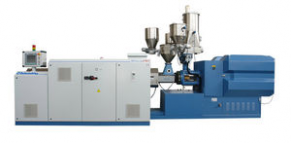 PLUS provides a broad selection of counter rotating screw extruders from Bausano. The unit features various advantages for the customers like the more efficient air fan cooling system and on board control panel equipped with color touch screen. It is capable of eliminating the torsion effort in on the command shafts with excellent subdivision of the effort and torque.

It can also reinforce the thrust bearing system while increasing the available power at the screw. The tool is provided with prolonged life of the transmission system as compared to the traditional Multidirve system. This unit ensures higher output at easy maintenance with limitless possibilities.
Any questions?
Please ask our sales team!
Other products: