Parallel twin-screw extruder - 450 - 2 273 kg/h | TP series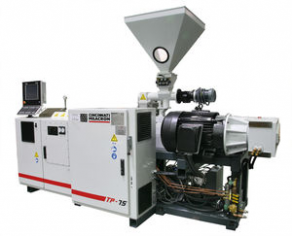 Parallel Twin Screw Extruders of the Cincinnati Milacron's TP series provide high output, great performance and high profitability.
They come with the most reliable and the strongest gearbox available anywhere in the world. The design makes them ideal for shear sensitive and heat materials. They have a high surface area and a low screw design which allows the efficient heat transfer. All these mills also have positive pumping displacement characteristics. Finally, the short residence time provides optimal melting conditions.
Any questions?
Please ask our sales team!
Other products: