Finish robotic cell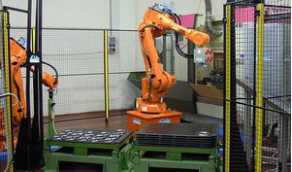 Robot-based automated systems are designed and produced by CIA for metal semi-finishing and finishing. These automated systems are the ideal solution for providing client companies with metal finishing. Benefits include constant cycle times and a repeatedly high-quality finish. In line with consumer needs regarding the type of components requiring processing, there are robot-based automated solutions available with the following variations: a robot manipulating the part with the tools being kept stationary, and with a robot manipulating the tool with the part in a fixed position, or moved while the position is being controlled as the external axis of the robot.

Example fields of applications where these robot-based automated systems are used for metal finishing include trimming for aluminum casting and cast iron, grinding of aluminum parts and brass parts, fiberglass smoothing, polishing of brass or aluminum parts, etc.
Any questions?
Please ask our sales team!
Other products: