Tubular heating element / flexible - GC-flex® vario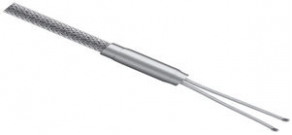 The "GC-flex hermetic vario" product is a useful addition to the range of flexible heaters that allow tool heating. In addition to this, the first aspect that makes the item special is the one-side connection, which provides you more variability in terms of the elements, regarding the dimensions of your tool. At the same time, the manifolds can be designed in a way that is more compact than the heaters.

Note that a second connection is not required back to the connection area, while the unheated connection area can also be reduced significantly. Last but not least, the option for including a T/C inside a heater is also worth mentioning.
Any questions?
Please ask our sales team!
Other products: