Tube-tube heat exchanger - max. 285 °C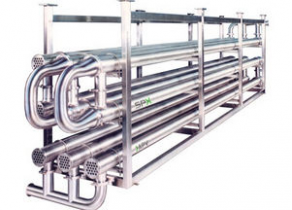 SPX's APV ParaTube systems are tube-in-tube heat exchanger devices, capable of being equipped with either straight or corrugated tubes. The devices are designed and manufactured with either singular-tube components each, or a number of smaller tubes bordered within outer shells.

They are available in a selection of 4 configurations. They also come in designs that vary from fully-welded with removable end caps, to incorporated thermal-expansion protection types.
Any questions?
Please ask our sales team!
Other products: