Cooled condenser - 10 - 202 kW | Microchannel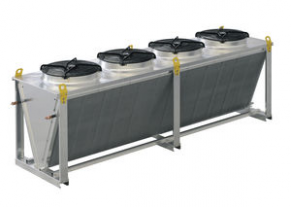 The Microchannel Condensers is manufactured by THERMOKEY s.p.a. The product is made of aluminum, and is constructed to comply with both customer demand and application requirements.

The M3C condensers are designed and manufactured to work with most standard refrigerants, such as the R404A, R507A, R134A, R410A, R290, ..., and R717. They can operate with a maximum working pressure of 45 bar, and are tested in the helium room up to 50 bar in accordance with internation CE 97/23 standards.

The Microchannel Condensers reliability, corrosion resistance, reduction of refrigerant charge, low air side pressure drop, modular design, easy maintenance and cleaning requirements, together with the compactness, and the lightweight structural construction allow the reduction of overall costs with more than 90% recyclability.
Any questions?
Please ask our sales team!
Other products: