Diaphragm valve / springless - CE | DCS/RDCS Series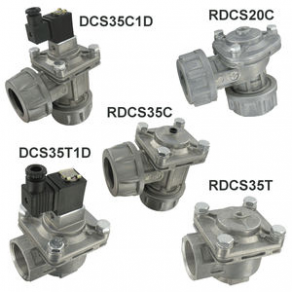 The series DCS/RDCS Spring-less Dust Collection valves are the perfect option for usage with Series DCT1000 and Series DCT500 duct collection timer boards. Both the DCS and RDCS come with the option for either NPT connections or coupling. These coupling connections provide for a simple and fast installation. Only a cleaning and deburring operation is required beforehand for the stub pipe and the blowtube.

Both T and C versions come with a 90 degree angle between outlet and inlet, which is obviously the best suited configuration for pulse valve application. Valves are available in both remote and integrated coil configurations. The T Series DCS comes with female threading connections and the C Series DCS is equipped with a coupling connection.

The spring-less design is not only reliable but also durable providing an exceptional cleaning pulse.
Any questions?
Please ask our sales team!
Other products: