Peristaltic pump / laboratory - max. 36 ml/min | 400DM2 series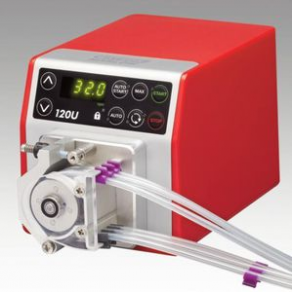 The Watson-Marlow 120S/DM2 and 12OU/DM2 pumps constitute a 400DM2 twin channel pumphead that is powered by a 120 automatic or variable speed drive. The pumphead can handle manifold tubing with a 0.8mm wall and 3-bridge characteristics, with 0.13 to 2.79 internal diameter sizes. The pump has 36 ml/min maximum flow rates.
120 series of pumps have a very compact footprint which saves space in clean room, LAF and biosafety cabinet installations. The 120U is equipped with 0.1 to 100 rpm in 0.1 rpm increments. It has a manual remote control or automatic control through 4-20mA or 0-10V inputs. Its features include priming, speed scrolling and keypad lock. The 120S has a manual control, 1 to 100 rpm with 1 rpm increments. Its features include keypad lock, speed scrolling and priming. Flow rate is at 0.0001 to 36 ml/min at 30 psi or 2 bar.
Any questions?
Please ask our sales team!
Other products: