Splined fitting - Außengewinde DIN EN ISO 228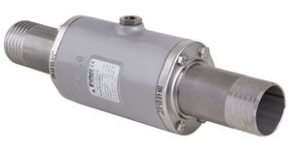 These threaded hose nozzles type SAS by German Manufacturer AKO Armaturen & Separationstechnik GmbH, are available individually or in conjunction with a pinch valve. They have nominal diameters of DN010 to DN080 and are structured from stainless steel AISI 316L. They are compatible with AKO air-operated pinch valves of series VMC, VMP and VF.

The interconnection between valve and hose nozzle is via internal thread ends. The nozzle is fixed onto a flexible tube which is then fixed onto the hose tap with a hose clamp. The entire assembly is then installed on the pinch valve. There are two advantages to this installation. Firstly, it is accomplished very quickly and easily, saving time. Secondly, the sleeve of the air-operated pinch valve can be easily removed at the time of replacement. This manner of installation is far superior to conventional flange or internal threaded type installations.

The external thread connections are DIN EN ISO 228 "G".
Any questions?
Please ask our sales team!
Other products: