Multi-cartridge filter filter housing / sanitary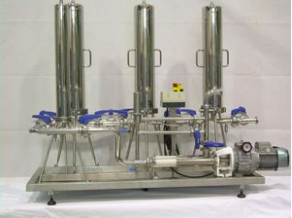 Alteco Srl generates systems that adhere to the guidelines for hygienic structure and offers arrangement if the client demands based on his particular needs. Welads are made using stationary gas resistance in the pipe and contact with the liquid and provides pipe matter 304 (basic) or 316L (provisional) Frame on feet (basic) or on wheels (provisional).

Additionally, it consists the likelihood to appeal tank or collectors for residual liquid storage and setup lift system for the body.
The pumps comprise of self-detour, security valves and are attached with sensors to protect from dry running while it can set-up extra sensors on the links to house them.

Moreover inverters can be fitted across the board systems to regulate the pump and CIP permanent or angular systems can be fitted with their own pump and mechanical console.
Any questions?
Please ask our sales team!
Other products: