Hydrogen compressor / diaphragm - 3 000 bar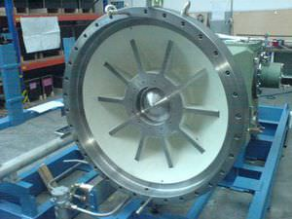 Hofer diaphragm compressors provide a lubricant and abrasion-free compression of gases and gas mixtures.

Since they operate without leakage, they are particularly suitable for gases of highest purity as well as explosive, toxic and expensive gases. Hofer diaphragm compressors ensure a reliable compression of various gases such as hydrogen, helium, argon, ethylene, fluorine, hydrogen sulphide, chlorine, monosilane or nitrogen trifluoride.

Hofer diaphragm compressors are usually used for filling of storage vessels, for feeding into continuous processes or as gas circulating compressors.

Hofer diaphragm compressors are characterized by their design that makes the machines exceptionally safe, reliable and easy to maintain.
Any questions?
Please ask our sales team!
Other products: