Air compressor / centrifugal / oil-free / high-pressure - 65 - 147 m³/min, max. 12.8 barg | Centac C800 series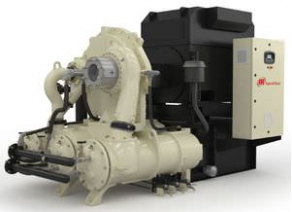 The new Centac C800 centrifugal air compressors are known to deliver high performance in tools, fluid management and material handling equipment. It is the most preferred machine for assembly, automotive food and beverage, oil and gas, petrochemical, pharmaceutical, processing and other industrial manufacturing applications. Additionally, its integrated components, lesser parts and modern aerodynamics helps in enhancing efficiency up to 6%.

All these various features and it's design makes system integration smooth sailing than ever.

The Centac C800 offers high efficiency coolers and are over sized for higher fouling resistance with a low CTD and pressure drop. The integrated filter offers pressure and thermal regulation owing to its simplified, leak-free oil system.

Moreover, this air compressor allows a minimal energy consumption and operating costs.
Any questions?
Please ask our sales team!
Other products: