Water purification unit laboratory - 8 - 12 l/min | RODI-2000 series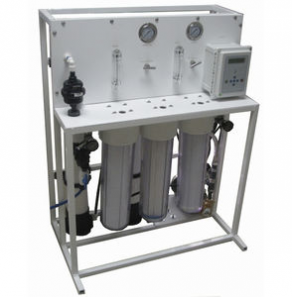 The 1-GPM reverse osmosis portion of this system reduces operating costs by economically removing ~97% of the contaminants from the incoming tap water. The RO water is stored in an included 200-Liter pressurized tank that prevents the risk of airborne contamination and eliminates the need for additional feed pumps and tank filters. The system is mounted on a welded aluminum frame and includes a built-in three stage pre-filter assembly.

The Type I portion of this system produces 18.2 megohm-cm ultrapure, reagent grade water at a flow rate of 8-12 Liters/minute and features continuous recirculation to maintain maximum water purity. Therefore, pure water is instantly available on demand. The system can be setup to feed a single dispensing point or multiple dispensing points via a small (200 linear foot) circulation loop. A variety of optional faucets, valves, and dispensers are available for use with the system. A digital Conductivity/Resistivity monitor displays the water quality and a Green LED indicates that the water quality is above the acceptable purity. When the water quality drops below the desired purity a Red LED alerts the user that it is time to replace the filters.
Any questions?
Please ask our sales team!
Other products: