ECS separator / eddy current / for non-ferrous metals / glass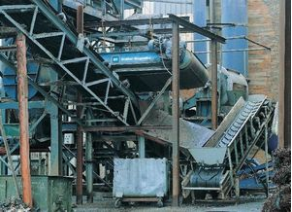 The waste disposal and recycling industries use different
metal separation systems to those already described in
this brochure. This branch of industry tries to isolate raw
materials from other waste in an environmentally-friendly
way so that metals can be economically recycled.
Conventional systems such as overbelt systems, separation
drums and head rollers have been improved over
the past few years and more functionality has been
added. Also, more types can be supplied with
Neodymium magnet systems. Eddy Current non-ferrous
metal separators occupy a special place. Bakker
Magnetics has recently introduced a second generation
of Eddy Current non-ferrous metal separators developed
together with the Technical University of Delft. The efficiency
is greatly improved with the introduction of a
completely new 18-pole magnet cylinder. For many
applications, the separating power can reach almost
100%. Recent tests in the glass recycling industry
showed, for example, an efficiency of 99.8%.
Any questions?
Please ask our sales team!
Other products: