Push-button switch - 8 - 250 V, max. 15 A | Z series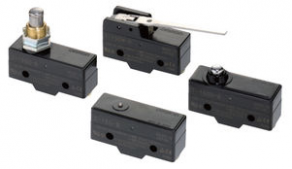 This general purpose basic switch is available in a wide variety of types and offers high precision. It offers repeat accuracy and has a large switching capacity of 15 A.

Numerous types of switch are available, including basic, maintained-contact, split-contact and adjustable contact gap types. Standard models for micro loads are available. Molded terminal-type models are available which incorporate a safety terminal protective cover.
Any questions?
Please ask our sales team!
Other products: