AC/DC power supply / 19-" rack / with power factor correction (PFC) input / PFC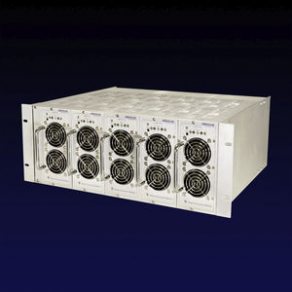 The PFC 419F-5K-4U19 Series is a modular, rack-mount ac/dc power system with power factor corrected input.

The system is constructed with up to five 1kW plug-in power supply modules assembled in a 4U x 19" x 15" card-frame. Each 4U x 16HP x 304mm plug-in module has a built-in redundancy diode for parallel connection or N+1 redundant operation, including hot-insertion. The redundancy diode also allows for a battery to be connected to the output for back-up purposes. The fully loaded PFC 419F-5K-4U19 system delivers a maximum of 5kW or 4kW with N+1 redundancy.

The plug-in modules each employ a power factor corrected input and a following half-bridge stage to convert the universal ac-input voltage (95-264Vac) to 24Vdc, 48Vdc, 110Vdc or 125Vdc. Custom input/output voltages are available. The modules include a module fail alarm with optocoupler output, summarized into a single Form C alarm on the shelf motherboard. The front panel of every module has an output ON LED indicator. Test points for monitoring output voltage and voltage adjustment potentiometers are available as options.

The plug-in modules comply with EN/UL60950 and equivalent industrial safety standards and the EN61000-3-2 directive for low input harmonic distortion. They are filtered to meet EN55022-A EMI standards with large margins. Efficiency at full load is typically 80%. Protection features include 4300Vdc input to output isolation, output current limiting with short-circuit protection and thermal shutdown with self-resetting. Cooling is by two high quality built-in fans on each plug-in module.
Any questions?
Please ask our sales team!
Other products: