Triple-axis movement drag chain - ROBOTRAX SYSTEM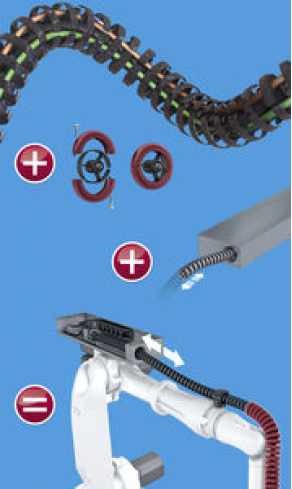 Tsubaki Kabelschlepp ROBOTRAX cable carriers for three-dimensional movements are useful for deployment on robots for swiveling and rotational movements. The same system can be used for robot feet and arms. When combined with channel system, ROBOTRAX is a universal solution for rotary applications, also suitable for rotary tables.

The quick and repetitive movements of long cable carrier systems in large operating envelopes, with a continuous hitting of the robot arm, lead to reduction in the service life of the carrier and installed cables. This leads to a failure of the overall robotic system and costly downtimes and production outages. ROBOTRAX has an optimum system resulting in durability of cables. It is possible to maintain the minimum bend radius, and the cables are cleanly isolated in three separate chambers.

ROBOTRAX features of an active pull back mechanism.
Any questions?
Please ask our sales team!
Other products: