Temperature probe / thermocouple / resistive / threaded - -40 °C ... +1 100 °C | Omnigrad S TC15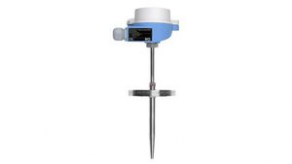 Endress+Hauser TC15 is a modular thermometer with a thermocouple insert, neck extension that protects against overheating of the head transmitter, barstock thermowell and it can be ordered as a weld-in or flange unit.

The TC15 modular design has DIN EN 50446 terminal heads that provide a great deal of flexibility. The consumer can specify the immersion length. In relation to DIN 43772, the unit design is very compatible. It provides two kinds of protection in hazardous environments: intrinsic safety and non-sparking. The reduced and tapered tip allows for a faster reaction time.

The head transmitter offers superior accuracy and dependability compared to that offered by a sensor that has a direct wire. Customizing the unit is simple, just choose an output and communication protocol.
Any questions?
Please ask our sales team!
Other products: