Laser belt-drive alignment tool - 50 - 6 000 mm (2 - 20 ft) | TKBA 40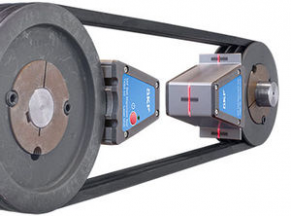 The SKF TKBA 40 belt alignment tool aligns V-belt pulleys in the grooves. The TKBA 40 is fitted into the grooves of the pulley with V guides and powerful magnets.The powerful magnets provides fast and easy attachment. The belt alignment tool with only two two components, a laser emitting unit and a receiver unit, offers easy and fast attachment. The receiver unit with three dimensional target area easily detects misalignment and nature, whether it is horizontal, vertical, parallel or a combination of all three.

Three-dimensional target area facilitates simultaneous adjustment of tension and alignment and simplifies the alignment process. The V-guides enables alignment of wide range of V-belt pulleys and easily aligns grooves of a V-belt pulley rather than its face for optimal alignment of pulleys of unequal width or with dissimilar faces. The maximum 6 m (20 ft) operating distance accommodates several applications.
Any questions?
Please ask our sales team!
Other products: