Rheometer for the food industry - ICC No. 115/1, AACC No. 54-21, ISO 5530-1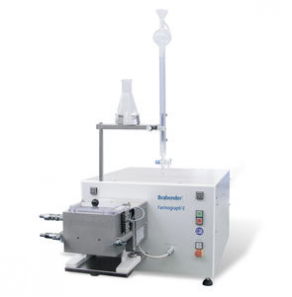 The Farinograph-E Application is utilized to determine the flour quality and its processing characteristics. In the baking and milling industries, these are basic demands in order to ensure uniform and optimum flour qualities for manifold baking and noodle products.

The Farinograph-E Application can measure the water absorption of flours, determine the rheological properties of the dough, check flour blends and production in the mill, test sponge batter, egg foam and rye flour, test full formula doughs, as well as provide special applications for chocolate, cheese, fish, meat and chewing gum.

The heated measuring mixer is filled with a flour/water suspension and then subjected to a defined mechanical stress. This is achieved by the rotating mixer blades which are driven by a motor and carried in a pendulum bearing. Depending on the viscosity of the dough, it provides resistance against the blades, causing an opposite deflection of the motor housing.
Any questions?
Please ask our sales team!
Other products: