Laboratory viscometer - Viscotek DSV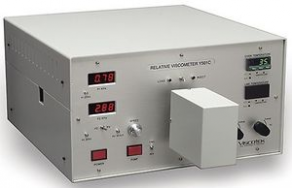 The DSV is a Relative Viscometer developed by Malvern. It uses an advanced pressure sensing technology and dual capillary design to provide direct measurement of relative viscosity in dilute polymer solution. This viscometer gives high speed analysis, higher precision and less solvent consumption, in contrast with the usual glass tubes. Furthermore, this viscometer can clean and calibrate itself.

It also has the approval of ASTM and its losed loop system provides greater operator safety. Because of the enhancement in its sensitivity, a sufficient dilute solution can be measured to eliminate the need of extrapolation and eliminate errors. For its applications, it can be used in Polyethylene Terephthalate or PET, Polyvinyl Chloride or PVC, Polyolefins, Polyamides like Nylon, Synthetic Rubber like EPDM as well as Hyaluronic Acid or HA.
Any questions?
Please ask our sales team!
Other products: