Density monitoring device / concentration / online / for liquids - 0.5 - 2.0 g/cm3 | DM8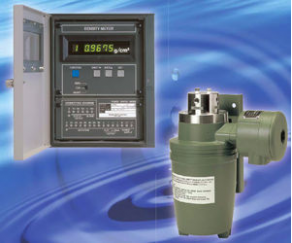 The DM8 liquid density analyzer by Yokogawa features a one-touch calibration that comes with a standard calibrating solution. It has outdoor installation for the converter and failure alarm display and output. This liquid density analyzer is highly sensible and stable.

It follows the principle of vibration density with a liquid temperature of -10 to 100℃ and an ambient temperature of 10 to 55℃.

This device can withstand pressure of up to 4.9 MPa G with a measuring liquid temperature of 2 MPa G or less. Its power supply can be 90 to 132 V AC or 180 to 264 V AC. Its case is constructed to be dust-proof and rain-proof. The converter weighs approximately 7.7 kg, while the detector weighs 12 kg.
Any questions?
Please ask our sales team!
Other products: