Paperless videographic recorder - VX series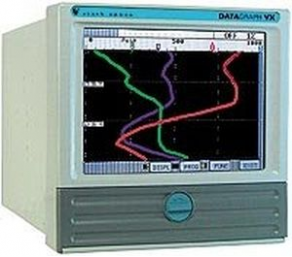 The datagraph VX touchscreen series is a videographic and data acquisition recorder manufactured by Linseis. The series comes in a monochrome or 5.6" color display.

It provides 2, 4, 6, or 12 direct universal inputs as dc voltage, dc current with external shunt resistor, 9 various kinds of thermocouples, 6 kinds of RTD's, or dry contact of event input. The unit features an optimum speed sampling, with which it can record as many as 8 samples per second, making it suitable for recording process signals that change rapidly, like pressure.

The unit also comes with a sufficient color display. The 5.6" active matrix TFT touchscreen display is the largest in its class. With the particular anti-glare coating, the viewability is adequate. The series is available in a low-cost 2 input, monochrome display model.
Any questions?
Please ask our sales team!
Other products: