Electric measuring device / analog - SINEAX U553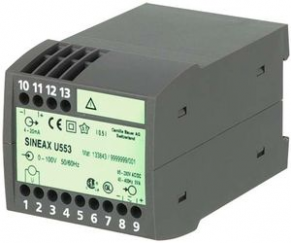 This transducer is suitable for various alternating voltage applications, especially those that involve measuring sinusoidal or the distorted alternating voltages, with the use of the power supply connection. In addition to this, in terms of the benefits of the customer, the RMS value measurement is possible up to a crest factor of 6, while the possibility of adjusting the maximum value of the measuring range on site is another important advantage.

Next, the item comes standard as GL, being suitable for ships, and you can also use it for 400 Hz systems.
Any questions?
Please ask our sales team!
Other products: